Outdoor or indoor gatherings have always been a favorite pastime for many, whether it's a movie night under the stars or a backyard party. To make these events truly unforgettable, motorized projector screens have become a game-changer.
With their convenience, versatility, and advanced features, these screens are revolutionizing outdoor entertainment.
In this article, we will explore different types of motorized projector screens and their unique advantages. Whether you're a homeowner or an event organizer, understanding these options will help you create captivating experiences.
What Can Motorized Projector Screens Bring To Your Gatherings?
When it comes to hosting gatherings, whether indoors or outdoors, creating a captivating and engaging atmosphere is key. Motorized projector screens have emerged as a versatile solution, offering a multitude of benefits for various types of gatherings and entertainment activities.
In this article, we will explore how motorized projector screens can enhance your gatherings, both indoors and outdoors, by providing an immersive visual experience and expanding the possibilities of entertainment.
1) Movie Nights Made Magical
With a motorized projector screen, indoor movie nights become truly magical. Transform your living room, basement, or dedicated home theater into a cinema-like experience. The large screen size, combined with high-definition projection, creates a captivating environment that immerses everyone in the movie's world.
2) Gaming Extravaganza
Take your gaming sessions to the next level with a motorized projector screen. Whether it's console gaming or multiplayer experiences, the expansive screen size and immersive visuals offer a thrilling and engaging gaming atmosphere. Experience the action and adventure on a grand scale, bringing your virtual worlds to life.
3) Spectacular Visuals for Events
Planning an outdoor event? A motorized projector screen adds a touch of elegance and professionalism to weddings, parties, and corporate gatherings.
Display stunning visuals, presentations, or slideshows in grand style. Whether it's a wedding reception, a birthday celebration, or a business conference, the captivating visuals will leave a lasting impression on your guests.
Electric Roll-Up Screens: Convenient And Silent Operation
Xiong-Yun Audio-Visual's Electric roll-up screens with a remote control provide a quick and easy way to bring your projector. With this technology, you can enjoy seamless entertainment without the hassle of manual operation.
This type of screen is ideal for homeowners who want to enjoy their backyard without interruptions from neighbors or other guests.
Operation Electric roll-up motorized projector screens offer the convenience of silent and smooth retraction, allowing you to set up your outdoor cinema effortlessly. With a simple press of a button on the remote control, the screen gracefully rolls up, eliminating the hassle of manual handling.
 Versatility and Portability
These screens are available in various sizes, making them suitable for different outdoor spaces. They can be easily installed on patios, decks, or even in the garden. The lightweight and portable design enables you to take your outdoor entertainment to any location effortlessly.
In-Ceiling Screens: Ultra-Wide Viewing Angle And Discreet Integration For Visual Excellence
Xiong-Yun Audio-Visual's in-ceiling motorized projector screens provide the ultimate viewing experience for home cinema enthusiasts. They are designed to give you a wide field of view, with no borders or distractions to spoil your movie-watching experience.
In-ceiling screens provide a remarkable viewing experience with an ultra-wide viewing angle of 160 degrees. This feature ensures that everyone in the audience enjoys an optimal view, regardless of their seating position. It's perfect for large outdoor gatherings where a wider audience needs to be accommodated.
One of the significant advantages of in-ceiling screens is their ability to blend seamlessly with the surrounding environment. When not in use, the screen retracts neatly into the ceiling, remaining hidden from sight. This integration adds a touch of elegance to your outdoor space while preserving its aesthetic appeal.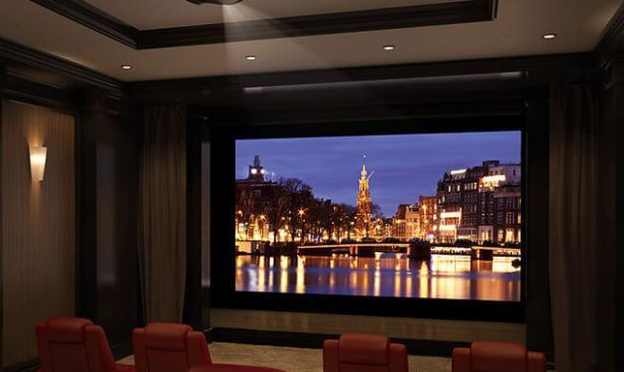 Ambient Light Rejecting (ALR): Immersive Experience With Customizable Options
When you need a high-quality motorized projector screen that can be used outdoors, the best option is an ALR screen. These screens have a special coating that helps to minimize ambient light, even under bright or sunny conditions. This means that your audience will enjoy an immersive experience regardless of their seating position.
 Customizable Fabric Options
Xiong-Yun Audio-Visual offers a wide range of fabric options for motorized projector screens, including the popular Ambient Light Rejecting (ALR) screens. These screens are specially designed to minimize the impact of ambient light, providing a vivid and immersive viewing experience even in bright outdoor settings.
Other fabric options include HD/4K matte white, 3D silver fabric, black crystal ALR fabric, woven fiber acoustically fabric, and perforated PVC acoustically fabric.
ALR screens employ advanced technology to maintain excellent contrast and color saturation, enhancing the overall visual clarity of the projected images. This feature ensures that your outdoor movie nights or presentations are vivid and impactful, even in challenging lighting conditions.
Outdoor Motorized Screens: Portable And Durable Solutions For On-the-Go Outdoor Gatherings
When you need to project a large image outside, whether it's for an outdoor movie night, presentation, or other special events, Xiong-Yun Audio-Visual's portable motorized projector screens are the perfect solution. Motorized screens are easy to set up and take down, so you can enjoy them anywhere with ease.
They also feature durable construction that resists damage from wind and weather conditions. Plus, they have a wide range of sizes available.
Outdoor motorized projector screens are designed for a hassle-free setup, making them ideal for people on the go. These portable screens can be easily assembled and disassembled within minutes, allowing you to enjoy outdoor entertainment wherever you travel. They are lightweight, compact, and come with convenient carrying cases for easy transportation.
 Durability and Weather Resistance
Outdoor motorized projector screens are built to withstand the elements. They are crafted using weather-resistant materials that protect against rain, wind, and UV rays. This durability ensures long-lasting performance and allows you to host outdoor events without worrying about screen damage.
Final words:
Motorized projector screens have transformed the way we enjoy outdoor gatherings. From electric roll-up screens to in-ceiling options, ambient light-rejecting screens, and portable outdoor screens, there is a solution for every need. Understanding the different types and their unique advantages empowers you to create captivating and immersive outdoor experiences.
Whether it's a movie night with friends or a professional presentation, motorized projector screens enhance the visual impact and entertainment value of your open-air events. Invest in the right screen and take your outdoor or indoor gatherings to new heights of enjoyment and engagement.