Where to buy audiovisual equipment for your home theater or home AV system? Whether it is used as a home theater or for other purposes, building an audiovisual system at home will have many benefits:
You can save money on the purchase of individual components and enjoy the satisfaction of having built your own system.
You can install and configure your system according to your needs and tastes.
You can customize your home theater with different colors and finishes for each component.
You can use it for other applications such as gaming or video conferencing.
What Equipment Is Needed For A Home Theater?
A home theater is a dedicated entertainment space within a home that is designed to recreate the experience of watching movies in a cinema.
It often features a high-quality audio and visual system, including a projector, projector screen, and speakers, along with other components that enhance the overall experience. This setup aims to provide an immersive and enjoyable movie-watching experience for friends and family.
Essential Video Equipment:
When selecting a projector, consider factors like brightness, resolution, and contrast ratio. A higher resolution and contrast ratio will provide a sharper and more vibrant image.
A projector screen is equally important, as it greatly influences the overall picture quality. Choose a screen with the right size, material, and gain to match your projector's specifications.
A screen with a high gain will reflect more light, resulting in a brighter image. The screen material should also be compatible with your projector to minimize any distortions or artifacts in the image.
Essential Audio Equipment:
High-quality audio equipment is crucial for a complete home theater experience. A surround sound speaker system is necessary for creating a three-dimensional sound environment that envelops the audience.
Importance of Projector, Projector Screen, and Speakers:
A projector, projector screen, and speakers are the most important components of a home theater system. The projector determines the quality of the video image, while the screen affects the brightness, color accuracy, and overall picture quality.
Investing in a high-quality projector and screen is essential for an authentic cinema experience. Similarly, a well-calibrated speaker system provides an immersive audio experience, making it a critical component of the home theater setup.
However, do you know where to buy audiovisual equipment? The following will give you a detailed introduction to an industry leader: Xiong-Yun Audio-Visual.
Where To Buy Audiovisual Equipment For Your Home Theater?
For different needs levels, suitable products are not the same. If you want to find a company that can provide you with quality audiovisual equipment, what are your options?
Xiong-Yun Audio-Visual is a projection equipment manufacturer with rich experience, mainly producing projector hangers, audio, and video cables, home theater projection screens, intelligent electric lift projection screens and large theater projection screens, and other products.
Many of their products have a MOQ of 1 piece, and if you want to buy in bulk, you will get more discounts! The following will introduce this company to you:
Extensive Production Capabilities:
Xiong-Yun Audio-Visual boasts a 15,000-square-meter production facility, capable of producing 200,000 sets of products annually. This large-scale production capacity ensures that they can meet the demands of customers worldwide, providing a wide range of audiovisual equipment options.
Quality Control and Manufacturing Process:
The company is committed to maintaining the highest quality standards, using advanced CNC machinery and state-of-the-art manufacturing equipment. They employ strict quality control measures throughout the production process, from raw material selection to final product delivery, ensuring that each item is in perfect condition.
OEM/ODM Services:
Xiong-Yun Audio-Visual offers OEM/ODM services to its global clientele, allowing for customization and tailored solutions to meet specific customer requirements. This flexibility makes them an ideal choice for those looking for unique and personalized audiovisual equipment.
Advanced Coating Technology:
Xiong-Yun Audio-Visual utilizes world-leading coating technology to enhance the performance of its projection screens. This enables the screens to achieve impressive black depth, providing a more immersive and visually stunning viewing experience.
Some Must-Have Accessories For Your Home Theater:
When setting up a home theater, it's essential to consider the number of speaker cables and mounts required for your specific space.
For example, a moderately sized home theater for four people might need four speaker mounts and adequate cabling to connect the speakers to the AV receiver. In this scenario, you could consider using Y1000-Speaker Cable and DJ5 Fixed Projector Mount as reliable accessories.
Y1000-Speaker Cable:
The Y1000-Speaker Cable is an excellent choice for a home theater system, as it is designed for high-quality audio performance. It features precision carbon-plated banana plugs, ensuring an impeccable connection for your audio system.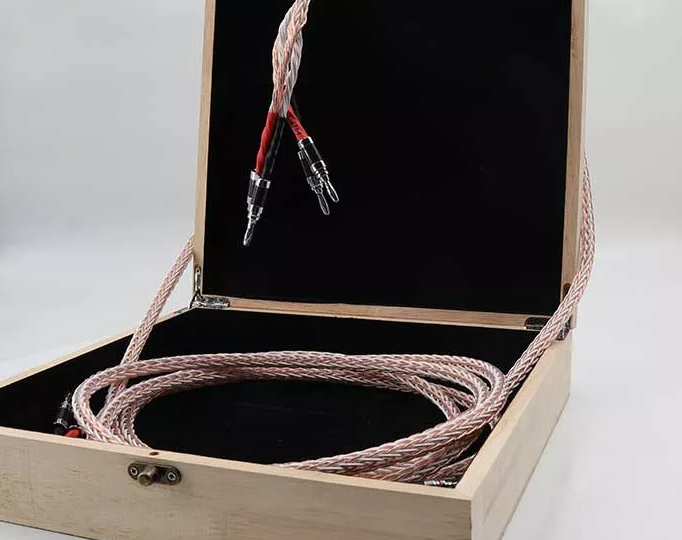 The Y1000-Speaker Cable is suitable for various applications, including home theater wiring, car audio, and computer audio output, providing improved sound quality and accurate audio positioning.
The DJ5 Fixed Projector Mount is a versatile and sturdy projector mounting solution made from high-quality aluminum-magnesium alloy.
It comes with an extension rod, allowing a total drop from the ceiling to the projector of 426mm, and a shorter rod for a total height of 110mm. The mount is easy to assemble and install, with adjustable length, height, and angle options.
The DJ5 mount offers 360-degree horizontal rotation and a ±15-degree vertical tilt, ensuring optimal projection alignment. Additionally, the cables can be concealed within the mount's tubing, providing a clean and organized appearance. This mount is compatible with 90% of wall-mounted or ceiling-mounted projectors.
Tips For Better Layout Of Your Home Theater:
If you are planning to build or renovate your home theater, it is important to have a layout plan in place. The layout plan will help you decide where each device should be placed and how they should be connected.
When it comes to layout, here are some tips for bettering your home theater:
1. Choose a sofa or couch with comfortable cushions and backrests that can support the weight of whoever sits on them.
2. Make sure there is plenty of space between the seating area and the screen so that everyone has room to see the TV clearly without feeling cramped or crowded by others sitting nearby.
3. Choose chairs with high backs if you have children who might get distracted by their own activity and forget to pay attention to what's happening on screen!
Final words:
Where to buy audiovisual equipment? Xiong-Yun Audio-Visual might be your better choice! Xiong-Yun Audio-Visual offers numerous advantages, including extensive production capabilities, strict quality control, OEM/ODM services, cutting-edge design and technology, and advanced coating technology.
These features make Xiong-Yun Audio-Visual a reliable and reputable choice for purchasing high-quality audiovisual equipment for your home theater.